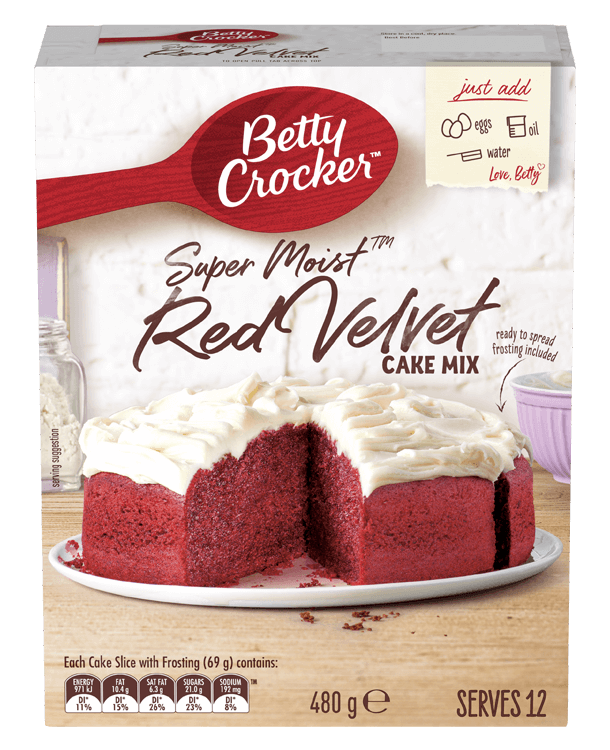 Red Velvet Cake Mix
This Red Velvet Cake oozes sophistication with its deep, red luscious sponge and a subtle chocolate taste, simply divine with cream cheese icing. Grab your apron and mixing bowl and fire up your oven.
Ingredients
Cake mix (15%): Sugar, wheat flour, fat-reduced cocoa powder (3%), maize starch, raising agents (calcium phosphate, sodium bicarbonate), vegetable oil, emulsifiers (propylene glycol esters of fatty acids, mono- and di-glycerides of fatty acids, sodium stearoyl lactylate), salt, colours (carmines, paprika extract), thickener (xanthan gum), flavours.
Frosting (25%): Sugar, vegetable oil, water, invert sugar syrup, maize starch, emulsifiers (mono- and di-glycerides of fatty acids, polysorbate 60, sodium stearoyl lactylate), salt, flavour, preservative (potassium sorbate), mineral salt (sodium acid pyrophosphate), colour (carotene), food acid (citric acid).
Cake mix contains wheat ingredients and may contain egg, milk and soy. Frosting may contain milk.
Nutrition Information
12 servings per container
Serving Size
40 g (Dry \fix with Frosting) 67 g (Baked Cake & Frosting)
Nutrition Facts

Nutrient Name

Average Quantity per serving / Average Quantity per 100g (MIX)
Average Quantity per serving (BAKED+)
% RI
Energy
660 kJ/1650 kJ
964 kJ

11%

Protein
1.3 g/3.3 g
3.0 g

6%

Fat, total
2.9 g/7.3 g
10.4 g

15%

-saturated
1.7 g/4.3 g
2.8 g

12%

Carbohydrate
30.8 g/77.1 g
30.8 g

10%

-sugars
20.5 g/51.2 g
20.5 g

23%

Dietary Fibre
1.5 g
0.6 g

2%

Sodium
110 mg/425 mg
188 mg

8%

* Baked nutritionals are based on the addition of ingredients set out in the recipe on back of pack.
** Percentage Daily Intakes are based on an average adult diet of 8700kJ. Your daily intakes may be higher or lower depending on your energy needs.
Please be aware that all our products are subject to reformation at any given time. Consequently, we would recommend that you always check the ingredient lists and nutritionals on the pack of all our products prior to purchase to determine product content.