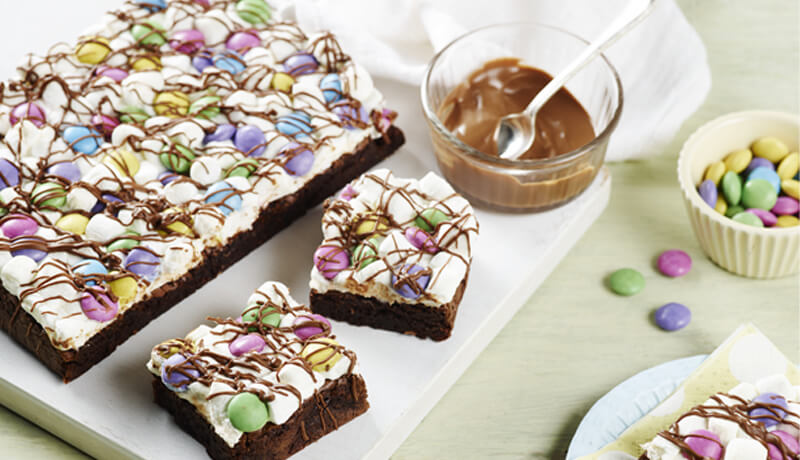 Autumn Celebration Brownies
Total Time: 2 Hours 10 Minutes
Make brownies extra special for Easter with a topping of mini mallows and sugar-coated chocolate beans.
---
All You Need Is ...
125g butter, melted, plus extra for greasing

1 box Betty Crocker™ Frosted Chocolate Brownie Mix or Betty Crocker™ Triple Chocolate Fudge Brownie Mix

2 extra large eggs
For the topping and decorating
100g white mini mallows

80g pastel-coloured sugar-coated chocolate beans

25g milk chocolate, melted
Betty's Easy Steps
Preheat the oven to 180°C (160°C fan forced). Grease a 20cm square shallow cake pan and line the base and sides with baking paper.
Open the brownie box, remove enclosed frosting sachet if using Frosted Chocolate Brownie Mix and reserve for another use. Mix the brownie mix, butter and eggs together in a bowl until well blended. Spread the mixture evenly in the prepared cake pan and bake for 20-22 minutes or until a round-bladed knife inserted into the brownie comes out almost clean. Remove from the oven.
Sprinkle the mini mallows evenly over the hot brownie and return to the oven for a further 3-4 minutes until the mini mallows are puffed up and slightly melted.
Remove from the oven and scatter over the sugar-coated chocolate beans and leave to cool completely in the pan.
Lift the brownie from the pan using the baking paper. Pipe or drizzle the melted chocolate over the brownie. Leave to set, then cut into 9 squares to serve. Store any leftover brownies in an airtight container for 3-4 days.
Betty's Tips
Instead of sugar-coated chocolate beans, you could use jelly beans or mini sugar-coated chocolate eggs.
For bite-size brownies that are perfect for little ones, cut the brownie slab into 25 squares.