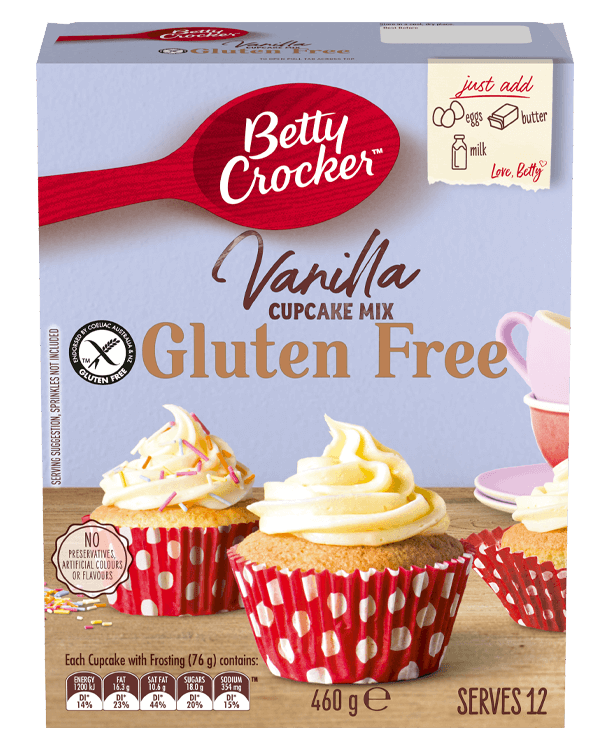 Vanilla Gluten Free Cupcake Mix
Betty's delicious Vanilla Cupcakes with butter cream frosting are now Gluten Free. Perfect for birthdays, afternoon tea with girls or just because you want to bake. Now everyone can enjoy the sweeter side with our Gluten Free cupcakes. Serves 12 (460g)
*Only Available in Australia
Ingredients
Cake mix (72%): Rice flour, sugar, potato starch, raising agents (sodium acid pyrophosphate, sodium bicarbonate), vegetable oil, maize starch, salt, thickener (xanthan gum), natural vanilla flavour.
Vanilla buttercream frosting mix (28%): Sugar, dextrose, vegetable oil, whey powder, maize starch, natural vanilla flavour.
Cake mix may contain milk, soy and egg. Frosting mix contains milk ingredients and may contain soy and egg.
Nutrition Information
12 servings per container
Serving Size
38g (Mix) 78g (Baked Cupcake with Frosting)
Nutrition Facts

Nutrient Name

Average Quantity per serving / Average Quantity per 100g (MIX)
Average Quantity per serving (BAKED+)
% RI
Energy
614kJ/1630kJ
1230kJ

14%

Protein
0.9g/2.3g
3.3g

7%

-gluten
Nil
Nil

-%

Fat, total
1.7g/4.6g
16.6g

24%

-saturated
0.8g/2.3g
10.6g

44%

Carbohydrate
31.4g/83.7g
32.7g

11%

-sugars
17.1g/45.5g
20.0g

22%

Dietary Fibre
0.3g
0.1g

<1%

Sodium
326mg/870mg
369mg

16%

* Baked nutritionals are based on the addition of ingredients set out in the recipe on back of pack.
** Percentage Daily Intakes are based on an average adult diet of 8700kJ. Your daily intakes may be higher or lower depending on your energy needs.
Please be aware that all our products are subject to reformation at any given time. Consequently, we would recommend that you always check the ingredient lists and nutritionals on the pack of all our products prior to purchase to determine product content.