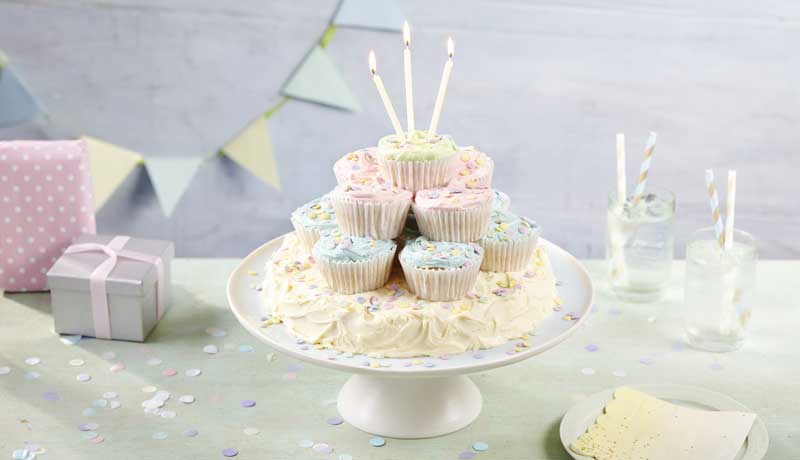 Confetti Party Cake
Total Time: 1 Hour 45 Minutes
Stack up some delicious fun with this colourful and easy to make birthday cake!
---
All You Need Is ...
Vegetable oil for greasing

1 box Betty Crocker™ Super Moist™ Vanilla Cake Mix

3 extra large eggs

80g butter, melted

3/4 cup (180ml) milk
For the decoration
1 2/3 tubs Betty Crocker™ Creamy Deluxe™ Vanilla Frosting

Green, pink and blue food colouring pastes or gels

25g pastel coloured confetti sprinkles or 100s and 1000s

Birthday candles (optional)
Betty's Easy Steps
Line a 12-hole muffin tray with paper cupcake cases. Grease and line the base of a 23cm round cake pan with baking paper. Preheat the oven to 180°C (160°C fan forced).
Open the cake box, remove enclosed frosting sachet and reserve for another use. Make up the cake mix as directed on the box, adding the eggs, butter and milk. Spoon half the cake mixture into the cake pan and gently level the surface. Divide the rest of the mixture evenly between the paper cupcake cases. Bake the cake for about 22 minutes and the cupcakes for about 18 minutes. Leave the cake in the pan for 5 minutes, then turn out onto a wire rack, remove the baking paper and leave to cool completely, along with the cupcakes.
Place 1 tablespoon of the frosting in a small bowl and beat in enough green colouring paste or gel to give a pale green colour. Place 4 tablespoons of frosting in a separate bowl and colour pink, then place 7 tablespoons of frosting in a third small bowl and colour pale blue. Frost 7 of the cupcakes with the blue frosting, 4 with the pink frosting and 1 with the green frosting.
Place the round cake on a serving plate or board and spread the remaining uncoloured frosting over the top and sides. Place 1 blue cupcake in the centre of the cake. Arrange the remaining blue cupcakes, sides touching, in a circle around the centre cupcake. Top with the pink cupcakes and then the green cupcake on top. Scatter over the confetti sprinkles or 100s and 1000s. Add candles, if you like. Keep, loosely covered, in a cool place until ready to serve.
Betty's Tips
Prepare the un-iced cakes a day in advance and wrap in foil and store in a cool place. Or freeze for up to 1 month. Only assemble a few hours before serving.
Add the colouring paste of gel gradually to the frosting using the tip of a cocktail stick or skewer until you get the desired depth of colour.
If you can't find pastel-coloured sprinkles, use another shape sprinkle of your choice, or visit a cake decorating shop.